Today let's do this Let's Help Danielle Remember her son the way he should be. Let's get 1000 signatures for her by FRIDAY !!!! Today as you know is Oct 15 Pregnancy and Infant Awareness Day. I have her story and more listed below. Please Help this Mommy, No Mom should ever have to go through something like this.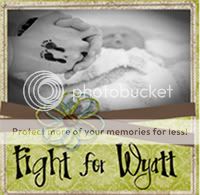 I'm asking if you could to please click on the button and read this. My friend Danielle from
Letting Go and Letting God
Could use your help in trying to get more signatures for her petition. Here's the story summed up short, her son lived for 2 minutes and the State of Tennessee doesn't want to recognize Wyatt's life. He was listed as stillborn so if you can please help her out. Thanx so much for your time in reading this. If you already signed I thank-you so much. You can sign you don't have to live in Tennessee only.