Wow it's Friday and it's FANTASTIC !!!!!!!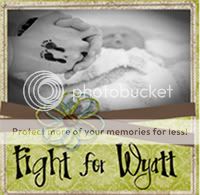 My friend Danielle from
Letting Go and Letting God
got her 1000 signatures plus more. So very awesome and I just wanta Thank everyone that signed. It is great that people care so much. I live on the West coast and I checked the signature list before I went to bed and there was only 6 more to before Danielle hit the 1000 mark. It's GREAT !!! I'm so happy for her. Really I'm excited and hope that when the day comes the law will be changed. If anyone hasn't signed and still wants to just click on the button "Fight For Wyatt ".Also you do not have to live in the state of Tennessee to sign, anyone can.
Well I'm wishing everyone a very Fantastic Friday and a great weekend.