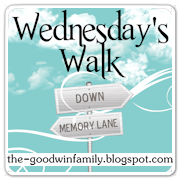 It's Wednesday's Walk .........
A look back at something special anything that has some special meaning to you. Just click on the button to join in.
This past weekend I was thinking about how growing up and the importance of us all being together at the Dinner table. Especially at supper time it was a time to share things that happened durning the day. I know that things have changed a lot since I was young and it takes two to work and sometimes , it can't be helped to not have that together time anymore.
I have a lot of good memories of us eating dinner together. It was a great sharing time plus eating but we were all together. I remember everyday it was someone else's turn to say grace. I remember a saying that hung on my Mom's dining room wall " The family that prays together stays together ". It was a lot of good times and funny how when your young it didn't seem all that important , to always be there but now that I am older with my own family I can see the need for something so simple as being together at dinner time.
That's my memory for today and hoping you have a great Wednesday.
God Bless