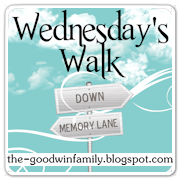 It's Wednesday's Walk .........
A look back at something special anything that has some special meaning to you. Just click on the button to join in.
Today I'm remembering my Grandparents on My Mom's side. They were wonderful and I spent lots of time with them in the summers. I can remember they were very involved with the church they attended. My Grandma played the piano at church. My Grandpa was the janitor.
They also were caretakers of the church cemetery. I know they especially taught me repect in the cemetery and how important it was to take care of the graves. Since it's spring time and everyone is planing flowers. It makes remember when I was old enough to help them I used to take a pair of hand grass shears and trim around the tombstones. How my grandparents never liked us to run and play there because it should be a place to remember those we have lost. Also my Grandpa never mowed the grass until Thursday's, so it would look nice for the weekend. I can even remember my Grandma taking a broom to all of the tombstones and making sure there was no grass on the stone. Some that got dirty from birds she would even clean them with water. I just think it was neat that they took such great care of something that meant so much to others. It is a great memory and everytime I go to a cemetery I always think of what they taught me and how caring they were to others.
Even though your not here today Grandpa and Grandma I love you and I know your in heaven looking down and smiling :).
God Bless