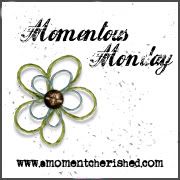 Today I'm joining in on a new blog hop that I found from A Moment Cherished. Just click on the button if you would like to join in and link up.
Here are a couple cherished moments from last wk.
Last week we finished a few odds and ends from moving and my 6 yr old Jennifer has been the biggest helper. We only had a few boxes left and she worked real hard putting them in her wagon and taking them over to the new apartment in our complex. If you don't read my blog regular we moved to another one in our same complex hoping a little more quieter. Anyway she did great and said I love helping and when I get older I wanta be a MOM just like you , your so nice to help me put the boxes in my wagon. Here she was the one being the biggest helper of all.
Also last Monday when I was having so much trouble getting our cable company to get things re-hooked up like I had them before and I couldn't get the right channels in. I had been on the phone off and on all day. My son Ridge who is 10 yrs old said it's really ok Mom we have all those DVD's and we can just keep watching them til it's fixed. Don't worry Mom I have been praying real hard that God can let them know they need to fix it for us. Ridge said I told God if you could get them fixed by 5pm when Dad gets home. Funny thing at 5 minutes to five the cable guy called and told me to check our TV and what do you know it was fixed. It was all pretty AwEsOmE !!!!
Have a great Monday !!!
God Bless