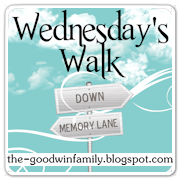 It's Wednesday's Walk .........
A look back at something special anything that has some special meaning to you. Just click on the button to join in.
Well this week's is a new memory. One that I just had the pleasure of seeing last night. One that I will never forget. My son Ridge his teacher Mrs Lori Browning got the " Teacher of the Year Award "
What a honor and to a wonderful , christian lady. I just love her to pieces and I know when I found out who Ridge had for this coming school yr I was so very excited. Just a little bit about her ..... She is a mother herself and is very devoted to her work. She goes to school early or stays late. Always working on something.
I have a couple memories of her. One was last year when the school district was talking about the budget and closing one of the 6 grade schools here. It happened to be her school. Lori made Ribbons that said Save our School. She worked hard on a plan that would save the school money. I attended most of the school board meetings because I really cared about the school my children were attending. What I remembered most about her was these Children are our Tomorrows. So very true. She prayed with others and you know what the school did not close.
Also the school has a garden where all the classes learn how to plant and take care of and harvest a garden. Since our school is year round it works pretty well. Last fall she taught my son's class how to harvest , make money and do something good with the money they made at there Farmer's Market. She used Math for the money and social work for the good they did with the money made. Money was split part went to a young girl that attends school there that has cancer and the Nevada Food Bank
One other thing I love is every morning at the start of class, she takes 5 minutes of quiet time. It's almost like a prayer time but she can't say that. Every child is to think of something or someone during that time.
So last night was a great memory for my son and us. She asked that anyone in her class that could make it to the meeting come and stand with her tonite while she received her award. When she was given a chance to speak she said This is my reason I received this tonight because These are the Children of Tomorrow and without them it wouldn't have been possible. So Congratulations to Mrs Lori Browning !! What a Awesome Teacher !!
Mrs Lori Browning with some of her students tonight.
The school sign " Teacher of the Year " Lori Browning
Have a great Wednesday !!!
God Bless