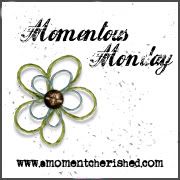 Today I'm joining in on a new blog hop that I found from A Moment Cherished. Just click on the button if you would like to join in and link up.
Wow I have a great one for this week.
My daughter Jennifer who is 6 yrs old still has her Kindergarden teacher amazed. Thursday evening Jennifer asked for some paper. She is always busy drawing so at first I didn't ask what she was doing. Then she started cutting squares out of the paper. I seen she had went and got these little books they had been given at school. She had a A , B , C and D one. They just had a few words in there with a picture. I would say about 6 words per book. I watched but was putting Carly to sleep so I didn't ask her what she was doing. After I got Carly to sleep I asked her. She said there was a student in her class that didn't get the books so she wanted to make her the same ones. Here she was writing the word and drawing a picture. She sat there for almost a Hour and a half and finished them. I stapled them together for her. She put them in her backpack for the little girl. I asked her if the teacher would have any extra and she said I wanted to make them for her. Wow I'm so amazed that a child at the age of six could sit there and work that hard. Friday when I went to pick up Jennifer at school. Her teacher asked me Did you see what Jennifer had done ???? I said Yes and I was so surprised myself. She said I have taught for yrs and have never seen someone that young be that thoughtful. We both had tears in our eyes and I thank God so much to know that Jennifer has such a caring way about someone in her class and didn't want them to feel left out. It really makes me feel good as a parent that she would do that. In her class last quarter they were learning about sharing and being nice to one another. That's one memory I will never forget.
Have a great Monday !!!
God Bless