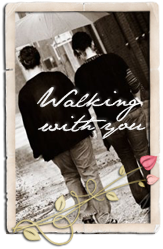 If you are new to this site:
Walking With You is an outreach of
Sufficient Grace Ministries,
led by Kelly Gerken. We are a group of mothers who have lost a baby or child. We gather together from different places on our journey, each month to share our stories, to encourage, and pray for one another as we walk this path together. Our hope is that you will be comforted when you join us here...and maybe that we can offer some grace for the journey as we look to the Lord for comfort and strength.
This month for Walking With You, we are starting something new. We will be going through the Threads of Hope, Pieces of Joy Bible Study for the next nine weeks. Even if you have not joined us previously, I hope you will join us for this. All are welcome. My prayer is that it will bring hope and much-needed encouragement to hearts that are grieving.
This week's lesson deals with Moving on to Acceptance
Acceptance means facing the full reality of the loss of your child or loved one. It is the final stage of grief.
It is hard to accept the fact that the person will no longer be here with you anymore. I know from my past of losing loved ones , a parent , grandparents and then two children by miscarriage that I never got to meet. One thing that always was there even when I was having a difficult day was knowing that one day I would see all of them again in Heaven. Knowing that God gave his only son so that we have eternal life forever.
In the study it talks about what we must to do save our own life ?
Luke 9:23-24 (New International Version)
23Then he said to them all: "If anyone would come after me, he must deny himself and take up his cross daily and follow me. 24For whoever wants to save his life will lose it, but whoever loses his life for me will save it.
To me this means that we should live a life fitting for God everyday and follow him. God is our strength all we have to do is believe in him and trust and obey. God will see you through anything that comes your way. At times it may be difficult but God is always there and ready to help us.
In the study it asks for items that you experienced, that you would want to take to the cross.
Mine were Depressed, Sadness ,Being very emotional.
I found that through it all praying and reading God's word and not keeping my feelings to myself helped me get through those days. I threw myself into my work and I can talk about loss. It makes me feel better instead of keeping things bottled up inside. I also feel I have become so much closer to God than I was before.
Changed ???
After a loss you are never the same person as you were before. No matter if the loss is a loved one or child. Right now I am dealing with this and it is tough. Grief is hard but I know that God is there for me always.
I feel that I am a stronger person today but like right now I am dealing with feeling the loss of my 2 babies that I never met as in 2 wks my rainbow baby My Carly will turn one and I'm hurting inside that there should be 2 others with first birthday's but I know that I will see them in heaven. It is just different as I think about a birthday party and the first one since I lost my babies. Sometimes things that used to matter and I might fuss about don't matter so much anymore. Every moment of life is precious.
Here is one of my favorite verses on changing
John 16:20-22 (New International Version)
20I tell you the truth, you will weep and mourn while the world rejoices. You will grieve, but your grief will turn to joy. 21A woman giving birth to a child has pain because her time has come; but when her baby is born she forgets the anguish because of her joy that a child is born into the world. 22So with you: Now is your time of grief, but I will see you again and you will rejoice, and no one will take away your joy.
Facing the Future
Memories are wonderful and with God as my best friend memories help. I know with the loss of my babies I have the great memory of knowing I was carrying a child again. One of God's greatest blessings a life. I also know that the day I lost each one of them I could feel God there with me and that I was never alone. I also knew that in the days that followed he would still be there to carry me. Even though there are painful memories there is always the knowing of heaven and it is a real place. I know that God is good and he has blessed me with 4 lovely children that are my everything. The holidays are rough and anniversary dates but I know God loves me and I think of the verse we all know.
John 3:16 (New International Version)
16"For God so loved the world that he gave his one and only Son,[a] that whoever believes in him shall not perish but have eternal life.
For Mother's day I always plant a special flower for each child. I always like being in church that day because I feel like I am at home with my children in God's house.
For support I find my husband and friends that understand or have been through a walk like mine. Most of all God who is always ready to listen.
Acceptance without shame
The fact that I can open up freely and talk about them. Also in being supportive to others that have lost.
Is it over yet ?
No it is never over it will never be totally gone. Nothing in my life will ever be the same without my children not being there or my Dad or others that have gone before me. I take life one day at a time and what's important is putting our faith and trust in God. Knowing that on that great day when God takes his children home then it will be over when everyone is together again. So it's not Goodbye to me it's Hey I will see ya later and I love you.
God Bless