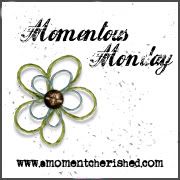 Today I'm joining in on a new blog hop that I found from A Moment Cherished. Just click on the button if you would like to join in and link up.
This happened this past week at school in my son Ridge's class. Every morning they have 5 minutes of quiet time , just to think about the day or anything special on their mind. The teacher can't say prayer but that is what it is like.
Well when the five minutes was almost up a girl in the class started to cry. She said she was losing her home. Her parents had been talking and she was scared she would have no where to live. The teacher told me Ridge was sitting next to her and he said Don't cry my Mom always told me as long as you have each other ( Family & God ) you can do anything. The teacher said that is so true and so then the teacher took her and talked. She was so proud of Ridge to not be afraid to jump right in and say something. There also is a boy in the class and she told me a lot of other students make fun of him but Ridge is the only one that can really talk to him. It makes me feel good that none of my children are afraid to say what they feel in there heart.
What a special moment , I wish I could have been there. It was still so great to be told when I picked him up afterschool.
Have a great Monday !!!
God Bless