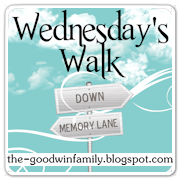 It's Wednesday's Walk .........
A look back at something special anything that has some special meaning to you. Just click on the button to join in.
Today I'm remembering my sister Colleen McCune. A wonderful sister , A great friend and a awesome wife and Mommy. We used to spend so much time together doing so many things. Shopping , Trips , Working together , just hangin out. There was a time when we didn't get along but for the most part we did. There are five yrs between us. She is the youngest in my family. She is very involved in the youth group at her church and is the leader of there puppet ministry also. She also helps out in Scouts w/her youngest Anthony. She is a pretty busy woman. Recently she and her husband both lost there jobs but Jeff has found a little work and she has done some babysitting and work for there church. She knows God will see them through this time just as he has before.
I want to share a beautiful time that I remember my sister , her wedding day was very special. Jeff had a son Blake who was 3 yrs old when they married. Not only did she marry Jeff but she married Blake that day. After she said her vows to Jeff. She turned to Blake who was the ringbearer and she made a promise to him to always be there as a step-mother and a friend. They had a small ring for Blake that day that had there wedding date engraved in the inside of the ring. She placed it on his finger. When they walked out of the church together it was Jeff , Colleen and Blake all hand in hand. What a wonderful memory of her as a Mommy and wife.
I miss my sister a lot since the move but we talk once a week and I look forward to when I get to go back to Ohio to visit So Colleen I love you bunches all the way from Nevada.
Here is a photo of my sister Colleen , her husband Jeff, Blake and Anthony.
Have a great Wednesday !!!
God Bless