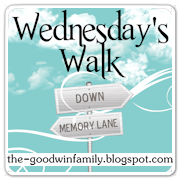 It's Wednesday's Walk .........
A look back at something special anything that has some special meaning to you. Just click on the button to join in.
Today I'm remembering my son " Ridge ".
I was going through some pics from last school year and ran across this one. His second grade class went to the Fire Dept for a field trip. I just love this one because he looks just like my brother that has been a firefighter since he got out of High School, 25 yrs ago , Wow !!!! Ridge wants to be a fireman someday. I know that could change but he loves to help people. It takes a special person to do that.
Have a great Wednesday !!!!!
God Bless