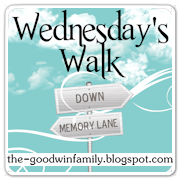 It's Wednesday's Walk .........
A look back at something special anything that has some special meaning to you. Just click on the button to join in.
Today I'm remembering a very special person in my life ..........
My Dad ......
We were the best of friends. I know Mom's and daughter's are close but my Dad and I could talk about anything. So I was going through some pictures I had and I found this one. I was 3 yrs old and it was at Christmas time. My Dad used to sit and hold me and my brother Kevin and read or sing to us in the rocking chair.
Everytime I look at this picture I think about now I could have pictured him holding grandchildren on his lap. Doing those same things he used to do with me. He passed away Aug 28 ,1986 and never got the chance to meet any of his grandkids.
One thing I do know is that on that Great Day when Jesus comes back to take us all to heaven , I will see him again. I know it will be exciting to see him again and to sit on his lap again or see him with all his grandkids.
Dad , I miss you so much not a day goes by that I don't think of you.
Love you always
your daughter
Caroline :)