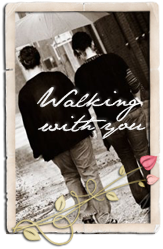 If you are new to this site:
Walking With You is an outreach of
Sufficient Grace Ministries,
led by Kelly Gerken. We are a group of mothers who have lost a baby or child. We gather together from different places on our journey, each month to share our stories, to encourage, and pray for one another as we walk this path together. Our hope is that you will be comforted when you join us here...and maybe that we can offer some grace for the journey as we look to the Lord for comfort and strength.
This month for Walking With You, we are starting something new. We will be going through the Threads of Hope, Pieces of Joy Bible Study for the next nine weeks. Even if you have not joined us previously, I hope you will join us for this. All are welcome. My prayer is that it will bring hope and much-needed encouragement to hearts that are grieving.
First of all if you don't know me My name is Caroline , I have 4 wonderful children on earth and 2 children that live in Heaven. I lost a little boy on Feb 10th 2006 at 12 wks. Then on Dec 1 , 2007 I lost another child at 8 wks. Both were painful but I know that I'm a much stronger person but still have some very tough moments as it still hurts. I 'm so glad that one day I will get to meet them on that great day when Jesus takes us all home.
Where do I go to find the truth ?
The Bible and I have a great friend that is a nurse. I asked her so many medical questions. Of course I talked my Mom to. She is a great christian lady and knows the Bible well. I prayed to God to help answer my questions.
2 Timothy 3:16-17 - All scripture is from God useful for everything we do. So that anything that comes our way we are equipped for great works.
Psalm 19: 7-10 - Law of the Lord is perfect , more precious than gold and sweeter than Honey.
Where does Life come from ?
Gen 2:7 - God formed us into what we are.
I know that God is giver of life and that God knows what will happen to us even before it happens. He knows how many hairs is on your head.
Why was My Baby to weak to live ?
Reading the Chapter of John 9 : 1 - 11. It was not his parents fault he was just born blind. I feel like this is saying that sometimes God takes us through something difficult just to see how to walk through the storms of life. I can remember something a friend told me after I lost my first child. " Life is hard but God is Good. " Then I didn't understand it or I didn't want to believe it but now I know that God will carry us through any storm in our lives no matter how big or small.
Where is my child now ?
Matthew 19:14
Jesus said, "Let the little children come to me, and do not hinder them, for the kingdom of heaven belongs to such as these."
I believe that my children are in Heaven. I believe as soon as we pass from this life we go to heaven. I would have to say that it makes me feel wonderful that God is so good and there is no waiting. He is there for you as much as he is on earth.
I'm not sure how I will be reunited with my children but I have always read they will know who you are and they are the same age as when they left.
Can I ever understand Why ?
I have always tried not to ask Why ?? I know that God knows the reason I was taken down that road. I will admit I wonder but I know that, Trust in God and having Faith will get me through this period in my life. I was very upset but I know that things happen for a reason. I love this verse so well.
Ecclesiastes 11:5 (New International Version)
As you do not know the path of the wind,
or how the body is formed [a] in a mother's womb,
so you cannot understand the work of God,
the Maker of all things.
How can God help me deal with losing my baby ?
Revelation 21:4 (New International Version)
4He will wipe every tear from their eyes. There will be no more death or mourning or crying or pain, for the old order of things has passed away."
I have always loved this verse and I find comfort when reading it. Once again Trusting God and having faith and knowing that God is always there for us helps a great deal.