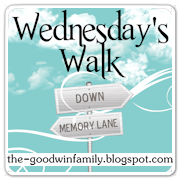 It's Wednesday's Walk .........
A look back at something special anything that has some special meaning to you. Just click on the button to join in.
This post is about a tough time in my life , but one that I could see how good God is everyday. Remembering this also makes me think of how strong you can be when you have to be.
This past week I was watching a show on TV , where a young girl had been beaten by her boyfriend. She was taken to the hospital by a friend. It brought back some memories of a time in my life. I was in a bad relationship with my older 2 children's father. It was hard and it wasn't real easy to walk away but knowing after myself getting beat on there was no way I could let something happen to those children God had blessed me with. So one day I got up the nerve and only took with me what I could get away with. Without much notice to there Father. A few days before I went to
Every Woman's House
,in Wooster ,Ohio , I took some extra stuff to the sitter's. It was a hard time in my life but the shelter we went to I was able to still keep my job and had safety for us. I lived a pretty much normal life there. Had to do a chore in the morning and one at night plus see a counselor once a week. We stayed there for almost 3 months until we felt it was safe and I had went through the court system. I'm so glad there was something like that and that God was with us always through all of it.
Here is one of my favorite verses :
"I can do all things through Christ which strengtheneth me."
Philippians 4:13 (KJV)
God Bless