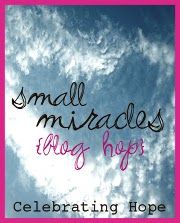 Today I'm linking up with my dear friend Franchesca for a blog hop on Hope.
What small or big miracles have brought you hope lately ??
Well after I had my first miscarriage in Feb 2006 , my oldest son Ridge was turning six in 18 days. He was little but when I talked with him about why Mommy was at the hospital he seemed to understand. I would have to say that my Ridge gave me so much Hope. I'm a christian and I believe that one day I will meet those children that I have lost. Heaven seems so far sometimes. Back to Ridge in the months that passed after. I would find him playing with his cars and talking to his brother that I lost. It made my heart smile to know that he has Hope that he will see and play with his brother and the other 2 children I have lost. We may be walking home from school or at the park and Ridge will start talking to them. Like he knows that I need to hear that hope of one day. It's all the little simple things that my kids do that make me feel so much Hope.
I enjoy looking at sunsets and the beauty of God's fingerpainting. The hope of a beautiful sunset brings another beautiful day. I know that God is good and that my children all of them give me the hope of another day with them.
So as I look at the picture below I have the hope of another day and the hope of another day closer to being with those children in Heaven.
Psalm 147:11
The LORD delights in those who fear him, who put their hope in his unfailing love.
So if you would like to please link up by clicking on the button at the top and submitting your story of Hope.