Monthly Writing Challenge from Faces of Loss , Faces of Hope.
Just click on the button if you would like to join in.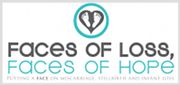 Here is this month's topic :
Blessings in Disguise
It's easy to look at all the negative things after a loss of a child. What are some things that you can be thankful for after a loss ?
I'm thankful for being a stronger person today. I can still remember going to the ER alone and knowing even though I tried to tell myself this wasn't what was happening to me. I made it , I have come a long way.
I'm thankful that my husband and I have a better relationship today after two losses.
I'm also thankful that in the past year my husband has opened up and we can talk openly about our feelings w/grief. No matter what time of year it is.
I'm thankful for the Babyloss Community and all the resources that have helped me.
I'm also glad that I can talk about my children that our gone with anyone and not feel like there is something wrong with only me or they shouldn't be talked about.
Most of all I'm glad that I can talk to my daughter's openly about a pregnancy loss and know that if something should happen to her someday which I hope not she will never be alone. There is support and most of all there is God who loves and cares for us all.
I'm also thankful that God is always there and today I walk closer with him. I know that he loves me and I will see my children in Heaven. God is Good even though there is pain.
I'm also thankful that I can reach out and share with others that have lost.
Most of all I'm thankful to be there Mommy.