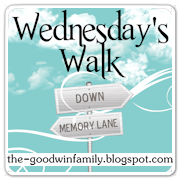 It's Wednesday's Walk .........
A look back at something special anything that has some special meaning to you. Just click on the button to join in.
Today I'm going back to Nov 2002. I was working at a warehouse that housed parts for Rubbermaid. I drove a towmotor there. At the time I didn't have a car but I had 2 children to provide for. I walked to work everyday rain or shine. It was about 2 miles. Well sometimes when we got off work one of my co-workers would give me a ride to my sitter's. I didn't like to ask anyone so somedays I would just walk home. No Big Deal to me. I liked to walk anyway.
Well one day after work I was walking and it started raining a little. Well Paul one of the guys I worked with who had always passed me when I was walking , stopped today. He asked me if I wanted a ride. I said Yea since it looks like it might really start raining hard. Well a few days later Paul asked me if I would like him to start picking me up for work and dropping me off. I thought about it a few days and then I told him Yes. Well here after a couple months we started dating and now the guy from work that offered me a ride in the rain turned out to be my Hubby " Paul " and a wonderful father to our children. I still think back to that day with just a few raindrops and I thank God I said Yes to the ride.
God is so Good all the time. He put me in the right place at the right time.
God Bless