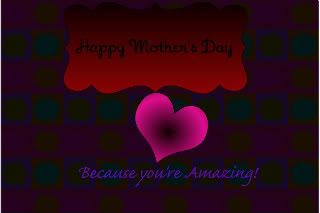 I would like to wish everyone a very Happy Mother's Day !!!
It's a bittersweet day at our home. I have 6 children that the Lord has blessed me with. The sad part is 2 of those blessings I never got to meet. I never got to see what kind of person they might become. But one thing I do know that God has a plan for me and they are right there waiting until that day when this world is wiped away and we all go to heaven. So even at different times out of the year when I get sad I have to remember that God is so Good and so Great and there is the promise of life forever with him. So even though the road here is hard to walk with losing two precious children we will all be a family again so today if you have lost a child I want you to remember that we are all amazing Mom's and one day we will all have our families together again.
God is so Good through it all.
Happy Mother's Day !!!!!!
God Bless