Today I would like to wish a special little boy a very Happy 1st Birthday in Heaven !!
Happy Birthday Vayden James Stewart !!!!!!
If you click on the button below it will take you to his Mom's Blog. Stephanie is a wonderful and strong lady. She has started
My Very Own Angel
since her son left this earth. It is a wonderful ministry and so helpful to anyone that has lost a child or loved one.
Today I'm praying for peace for this wonderful family today and always.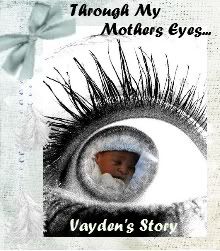 God Bless