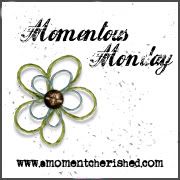 Today I'm joining in on a new blog hop that I found from A Moment Cherished. Just click on the button if you would like to join in and link up.
It was Thursday while walking my Jennifer to afternoon Kindergarten. It was a beautiful day out and warm and Jennifer was running ahead of me like usual. Well just before you get to the school there are a few places where there are lots of dandelions. She is always picking them for me. She sat down in the grass and picked a whole handful of ones that went to seed already held them as high as she could and blew them. I asked her what are you doing making lots of wishes. She said No Mommy I'm sending all the babies in Heaven a kiss from there Mommy's since they weren't here on earth. A tear ran down my cheek and I hugged her so tight. I know as a Mother I sometimes wonder what little ones are thinking. It's really something that she would stop and think of them and all the Mommy's that have lost. A child's love is great and so caring. I know it's one moment I will always cherish.
Have a great Monday !!!
God Bless