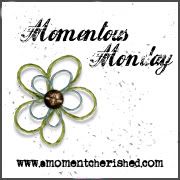 Today I'm joining in on a new blog hop that I found from A Moment Cherished. Just click on the button if you would like to join in and link up.
It was this past Thursday , my husband had left early morning at 5am to catch his flight in Reno. The children except for Carly wanted to get up to tell him Goodbye. I woke them at 4:45am and there sleepy heads sat on the couch and then they told Dad goodbye. It was shortly after he had left , my Jennifer was talking to the kids in the living room. It was cute since she is younger than them , they are 8 and 10 yrs old. She was telling them that wow Mom really has a lot to do now since Dad is gone. We are going to have to be really good for her. She sounded like she was about 16 or so and it sounded funny coming from a little 6 yr old. Then Jennifer came to me while I was getting breakfast and told me , Mom if you get scared and you need someone to talk to you can talk to me. Then she said if I'm at school you know you can talk to God anytime. What a little blessing !!! My little helper always.
So as I type we are waiting for his flight home today and praying for a safe one.
Have a great Monday !!!
God Bless