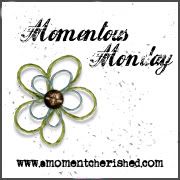 Today I'm joining in on a new blog hop that I found from A Moment Cherished. Just click on the button if you would like to join in and link up.
This is not a new moment but a past one. It has been on my mind a lot and remembering how it's the little things in life that mean the most to everyone.
This goes back to the summer of June 1986. My Father had cancer and we no longer could take care of him at home. We had to put him in a nursing home. None of us liked it but we just could no longer do things that he needed. I told my Dad I will be there everyday. Well for awhile it worked out but then the day came I missed. I felt bad and the next day I had to miss again. Only because of my job at the time. So I sat down the first day I missed and wrote a letter to put in the morning mail. It was just a simple letter on a piece of notebook paper no fancy paper. Just my daily stuff and telling him I missed him and stuff like that. I never had wrote a letter to him since I was young and stayed at my Grandparents during the summer. Here I was 21 yrs old. It sorta felt silly when he was only a half hr away.
Well in late August my Father passed away. A few weeks after I went to the nursing home. I wanted to ask the social worker there a couple questions I was curious about. I did and most of all I wondered if my Father was scared to leave us. She told me he didn't want to go but knew that one day he would see us again. Then she told me he always talked about how his oldest daughter at the age of 21 could take the time to write him a letter all about her day and such. He cherished that letter and brought it up a lot. He also kept it with him always and read it when I wasn't there or missed us.
So if one thing my Father taught me is the little things we do for one another mean the most.
Have a great Monday !!!
God Bless