Here is how it works using six words , describe your life ( or something ) in a phrase.
October - Pregnancy and Infant Loss Month
Here is a new website that is just starting up. So if you or someone you know has lost a child , Please check it out. Faces of Loss Faces of Hope.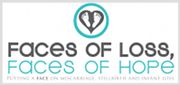 They also have another website I am the face. It's great !!
So today and all month remembering my 2 babies taken too soon , along with other families that have lost.
Have a Happy 6WS and a Awesome upcoming wk.
If you would like to join in all you have to do is click on the button at the top.