Wednesday afternoon I got a message on Facebook from a friend that had been suggested to me just before Carly's birthday. She is a friend of a friend I went to school with. Here my Carly and her little boy have the same birthday. They are both the same age.
Well back to the message , she had posted about a month ago that she was pregnant. I was happy for her. Today was not a good message. Today she told me that they lost there baby Monday night. It was also there wedding anniversary. So sad :( My heart was broken for them. She told me in 1997 that she had lost a child to miscarriage. She said she had questions but didn't know where to turn. I gave her the new site that just started " Faces of Loss Faces of Hope " I also gave her some other pages on Facebook that might help her. I also told her she could message me anytime. I would just ask that you please keep them in your prayers. I'm going to put together a little miscarriage package for them.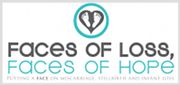 Until I started blogging I never really knew of so many helpful sites for baby loss. I'm just glad today to be able to help someone else.
Remembering all of the Babylost Mom's and Dad's especially this October , there families and there Angels in heaven. Your always in my thoughts everyday.