Today September 26th 2010 is International Babylost Father's Day.
Today I would like to wish all those babylost father's a very Happy Father's Day. A day set aside to remember those children who are not here. Who were taken to soon. Just click on the button below which will take you to the blog that has a great video and others resourses there.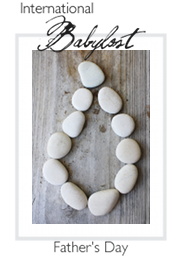 I know from my husband Paul , it sometimes seems like the Dad is left out. I know they sometimes handle grief in there own way. After I lost our little boy in Feb 2006, Paul tried to help me but I knew down deep we both were hurting. Then we lost again in Dec 2007. After that loss I found some help online. As time went on I started in a group Walking with You and my husband started to open up and finally talk about it. Today we both are doing so much better. Today I remember my husband Paul and others. I'm thankful that my husband has been there to comfort me on bad days or whenever. I can say we have helped each other and Today Paul you are a wonderful Father to all of our children but today we remember our children we never got to meet. Remembering how great and good God is we look forward to that day when we will see our children again.
Happy Babylost Father's Day to all !!!!