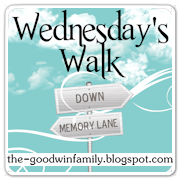 It's Wednesday's Walk .........
A look back at something special anything that has some special meaning to you. Just click on the button to join in.
I haven't done this for a few wks but now that my children the older 3 are back to school , I have a little more free time.
This wk I'm going back in time to my job I started right after graduating from High School. It was at the Assemblies of God Church Camp in Big Prairie, Ohio. I grew up right across the road from there all my life. I loved the summer's camp all the time and we could sit outside and listen to there meetings in our yard. Well I got a job there as cleaning rooms after each camp. It was a lot of fun always meeting a lot of really neat people. I worked there from 1982 - 1988. I did a lot of things there and they were open almost yr round. I was a lifeguard and actually got the chance to save a little girl. I always wondered if when I had to I could do it and I did. One really neat thing was I have stayed in contact with that girl ever since. It's just one of those neat things. I ran the snack bar for two summers and also helped order food for the camp. I even learned how to do the Goverment Free Milk program which was interesting. I started helping the head cook Norma out. I was taught how to prepare a lot of food at one time. One day Norma was very sick and my sister was working there at the time we cooked a meal for about 350 people and it was awesome. The things I learned to do there was amazing.
But the greatest thing of all was the summers and to see the power of God work in so many people. I loved the 2 wks of Kids Kamp. All those little children learning about the Lord. Since I worked there for a few yrs I watched some of them grow up.
I ended up having to leave there because I needed health insurance and to make more money. I remember I only made $ 150 dollars a wk but I also lived at the campground rent free and could eat there. But the benfits of seeing the Lord work were beyond that. I have stayed in contact with a lot of people from there since. The campground is no longer there. They sold it and moved it to a more central location in the state of Ohio. Someday I would like to go to the new one and see all the changes. I will never forget all those wonderful memories and things I learned at that job that started out just cleaning a dorm room after camp.