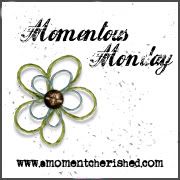 Today I'm joining in on a new blog hop that I found from A Moment Cherished. Just click on the button if you would like to join in and link up.
This moment happened last week. I was fixing Jennifer's lunch before Afternoon Kindergarten. A couple days before the kids had been a little on the bad side but nothing real major. Jennifer asked me " Mommy do you still love us when we are bad and don't want to listen ? " I answered " Why yes , I love you no matter what. She said I love you always too Mommy. She also said that's really good cause Jesus loves me all the time too.
One thing I have realized from being a Mom , you just never know what a child is thinking. I know some days my job as a Mom can be tough but little things like this make it so special.
Have a great Monday !!!
God Bless