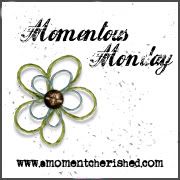 Today I'm joining in on a new blog hop that I found from A Moment Cherished. Just click on the button if you would like to join in and link up.
This was a couple weeks ago. I was getting ready to mix up a cake mix. My Jennifer who is six loves to help me. She goes to afternoon kindergarten. So mornings we spend a lot of Mommy and Jennifer time plus my one yr old Carly. She has been learning to read and doing well at school too. She picked the box up and was reading the instructions as she calls them. I added the mix and eggs and was pouring the oil in the measuring cup. She said Mommy that's not the right oil. She kept saying Vinegar Oil. I thought that's not right , I looked at the box and here it said vegetable oil. I told her and she said Oh I see and we sounded out the word together. She said Mommy I'm sure glad you do the cooking cause you make everything great even the stuff I don't like. Later we frosted the cake together and then off to school she went. Bless her heart , she really made my day.
Have a great Monday !!!
God Bless