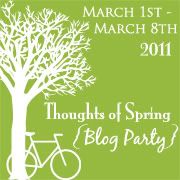 I'm joining in on Lynnette's Spring Blog Party ~
My name is Caroline Croley & I'm the Wife , Mommy , friend and most all around important person in our home , Lol. I'm a Stay at home Mommy. This is the first time in my life I haven't worked but I enjoy being home with the kids. I love my full time job.
I have been married to my best friend for 4 yrs. He is a wonderful husband and father. He works hard lots of hrs but we all still find time to be together as a family. We have been through a lot but together with God we can walk through anything.
How would people describe your personality? (If they could only use ONE word.) I would have to say HAPPY !!
Are they right?
I think so I'm usually in a good mood most of the time. Always has a smile to share with someone. I thank my Father for that he was always smiling. I remember the last time I saw my Father alive the night he passed away from cancer we were all laughing in his room having one more good time together as a family. I will never forget that. So I always share my smile cause I know that's what my Father did even in the darkest moments.
Who is your favorite blogger? That's tough because there are so many but I would have to say Holly Haas and Lynnette Kraft.
Why? Holly's is one of the first blogs I started following and she & her daughter Carleigh have both touched our family in a special way. I have never met her but totally love how strong and such a great Christian Mother she is. She has helped so many others in the Baby Loss Community. Our family loves Holly and her family so much.
Lynnette Kraft is just a awesome blogger and a wonderful friend. I read her book which I just love and her posts are so uplifting. She is a great christian lady & I love hearing about her family.
What is your comfort food/drink?
I love Iced Tea. I make my own too. I love Taco's & Pizza !!! Yummy !!
Movies: Action, Drama, Romantic Comedy, Documentary, Comedy? What are your favorite genres? I like just about anything. If I could choose I would have to say Drama & Comedy. I love to laugh. :)
Books: Fiction, Non-Fiction, Romance, Biographies, True Stories, Self-Help, Devotional/Study? What are your favorite types of reading material?
I also love to read a little of everything. Most of all True Stories. I think if I'm going to take the time to read something true would be at the top of the list.
Music: Funk, Rock, Country, Jazz, Classical, Film Score, Blues, Classic Rock, Crooner, Alternative, Heavy Metal, Techno? What are your favorite types?
Just about anything - but I prefer Christian or Soft Rock , sometimes Country.
If you inherited a million dollars, what is the first thing you would do with your money?
Pay off all my bills and built a Log Cabin for my home.
Something I have always wanted. Then maybe a vacation to somewhere really fun & warm not HOT.
Then I would help out a lot of places that help people who need it.
Name one weakness of yours (confession is good for the soul).
My weakness is easy Chocolate
If you could live anywhere at all (and take all your loved ones with you), where would you go?
Somewhere warm and not HOT. Then again it really doesn't matter as long as we are together.
What's something you consider yourself to be good at? (Don't worry, it's not bragging, it's acknowledging a God given gift).
That's a tough one but I would have to say keeping things nice and neat. I'm sorta a nut about stuff like that. Even though I have kids I have taught them how to keep things picked up and not just tossed.
What is one of your favorite things to catch a whiff of?
I love the smell of apple cinnamon and also melon scent.
When you leave a social gathering, do you wish: You would have talked more or You would have talked less?
I would have to say talked more because sometimes I tend to be shy especially if I don't know people to well. I am getting better about it.
If money wasn't a factor, what stores would you shop in?
I still like thrift stores , especially with kids and all the neat things I can find there. I'm not a big spender anyway. I like nice clothes and such but I'm a pretty simple person.
What is your greatest fear or strange phobia?
Something happening to my kids , I'm so weak there. Scares me to death.
What is your greatest accomplishment?
My kids , I'm so proud of them. I'm raising them to be caring , productive members in this crazy world we live in nowadays. Even though they are young yet I'm proud of what they have become so far.
Ridge is 11 yrs old
Thaniqua is 8 yrs old
Jennifer is 6 yrs old
Carly is 22 months
This picture of the hearts is in memory of our precious children that live in Heaven. We lost 3 children to miscarriage. Riley , Feb 10 , 2006 Little Muffin Dec 1 , 2007 and Sweet Pea Jan 6 , 2011.
We our so blessed !!
What are your favorite animals?
I love Monkeys. They always make me laugh. This is my latest monkey that my hubby bought me. I so love it and the kids aren't allowed to play with it. Lol