Just wanted to say Happy Ground Hog Day !!!!!!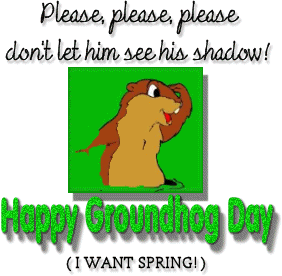 But there is another reason the kiddos that live here want Spring to come and that is because of the following coming up .........
It starts off all the birthdays here, Ridge starts it all off on Feb 28. Marie is next March 27 , Jennifer April 2 , Dad ( Paul } April 3 , and then of course Carly April 29. I'm the oddball I guess I have to wait til Sept 6. That's ok I like having Spring birthdays. I remember the year I had Jennifer I told my hubby he would always have Jennifer for a birthday present , LOL
My stepkids birthdays are Jared May 29 , Jessica June 28 and Justin July 2. So yes birthday season is upon us.
As for when spring will start just have to wait and see , I really look forward to this time of year. I like to walk and get out and let the kids play out , so I'm hoping it is soon.
Here is a short verse & the little bird makes me think of spring.

Have a great day !!
God Bless
Caroline