Just a little update .........
Today I'm praying for so much and so many.
First I'm praying for my Mom today. She is having some tests ran at Akron City Hospital today to do a recheck to see if any cancer is showing back up. She had breast cancer in Nov 2002 and had both breasts removed. So far she has been cancer free since then but there is always that fear. I talked to her yesterday and she didn't seemed worried she told me that she is trusting in the Lord and whatever he will carry us through.
I'm also praying for Stellan and his family as they make the trip to Boston. Such a strong little boy, hoping that the Doctor's in Boston can help him.
Just click on the button if you would like to read more about him.
Also keep this family in your prayers. You can click on this button to learn more about them.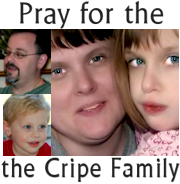 I'm also praying for our Family.
I feel so caught in middle, we are had our little talk with my step-son Jared and of course things didn't go well. It's just so hard on Paul and I right now. I'm just giving it all to God and hope when Jared decides what he is going to do that it doesn't tear our family apart because we love him so much. There are just rules that we have and it's not good for our younger children to see this. Praying for a good outcome for all of us.
Most of all I'm praying for all of my friends and followers and there needs whatever they maybe as we go into this holiday season and everyday.
On a brighter note - my husband Paul was supposed to have to take a week off in the month of Nov and Dec w/out pay unless he had vacation time to use. Praise God yesterday he came home and said he would be working. I have been praying that something would change and it did. God is great.